❓What Do Fragrance-Free & Hypoallergenic Means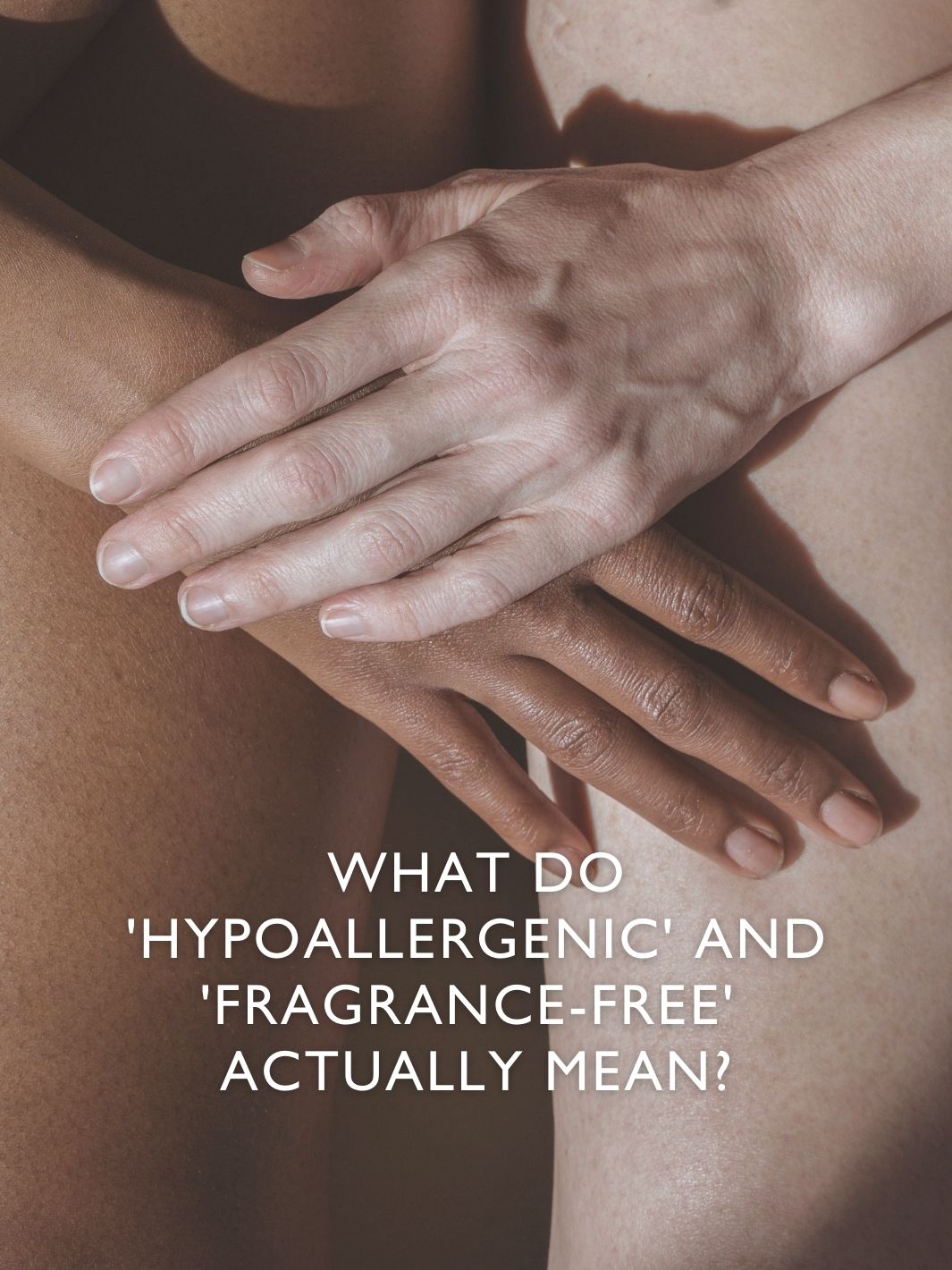 HOW TO TELL IF THE PRODUCTS ARE TOTALLY SAFE FOR YOUR SKIN
If you pay any attention to skincare labels at all, you might be familiar with a lot of terms on the bottle. Here's the thing: It's not always easy to tell if a product is safe to use on your very sensitive skin. But a few keywords are used to depict whether a formula is potentially irritating such as "hypoallergenic", "fragrance-free or sometimes "unscented". 
This might surprise you! Products labeled hypoallergenic can still have synthetic fragrances in them. If a product is labeled to be hypoallergenic, it means the product produces fewer allergic reactions than other conventional skincare products. The point here is fewer so it's less likely to cause allergies. 
The truth is, no product can be labeled as non allergenic because none of the products can be guaranteed not to cause an allergic reaction. Some people can be allergic to 100% pure chamomile extract and that is purely natural. 
This indicates that fragrance materials and masking scents were not used in the formulation. BUT you should always read the ingredient list, because if you don't react to natural essential oils—like lavender, chamomile, and rose—then you should be fine. 
But most of the time, some fragrances are very likely to cause a volatile reaction on sensitive skin so you should pay attention to these fragrance substances or fragrance enhancers on the personal care labels:  Phthalates, Benzophenone, Linalool, Citronellol, Limonene, Geraniol, Eugenol...
Here's a tricky part - unscented! Fragrance can be mixed in to either cover an unpleasant smell or make it seem devoid of any scent in the product. So just because a product does not carry any scent, it doesn't mean it's safe for people who are sensitive to fragrances.  So always check your labels and ingredients list to find out what might trigger your sensitivity if you already know what could.
THE SOLUTION?
ULTRA-SENSITIVE CARE THAT SAFE FOR BOTH BABIES & ADULT

Choosing natural products that are packed with greens from our sensitive care range will help you to find calm and without a long label for you to decode one by one. Keeping the ingredients simple, natural, and raw, they are very mild and gentle which is suitable for babies (tried and tested) and sensitive skin types including eczema or psoriasis. 
Liquid Gold for Sensitive Skin: Olive Soap
My husband has psoriasis. We noticed after using the Olive soap, that his dry and peeling-off skin condition looks more moisturized and it is getting better now.
- Jenny Siau -
Great For Babies & Kids: Pure Liquid Castile Soap
My son has super sensitive skin and acne on his face. He used it as a cleanser for his face and body and his skin condition has improved. 
- Marina Yong -
Dry Skin Saviour: Argan & Rosehip Oil Body Lotion
Non-greasy and solved skin rashes I love this! The product is unscented, non-greasy, and works on my 1.5y.o. toddler and myself, whenever we have rashes/skin issues. 
- Evelyn Yeong -
---