THE OLIVE TREE #OneLessFestival – More Than 3,600 Plastics Were Saved in 2 Days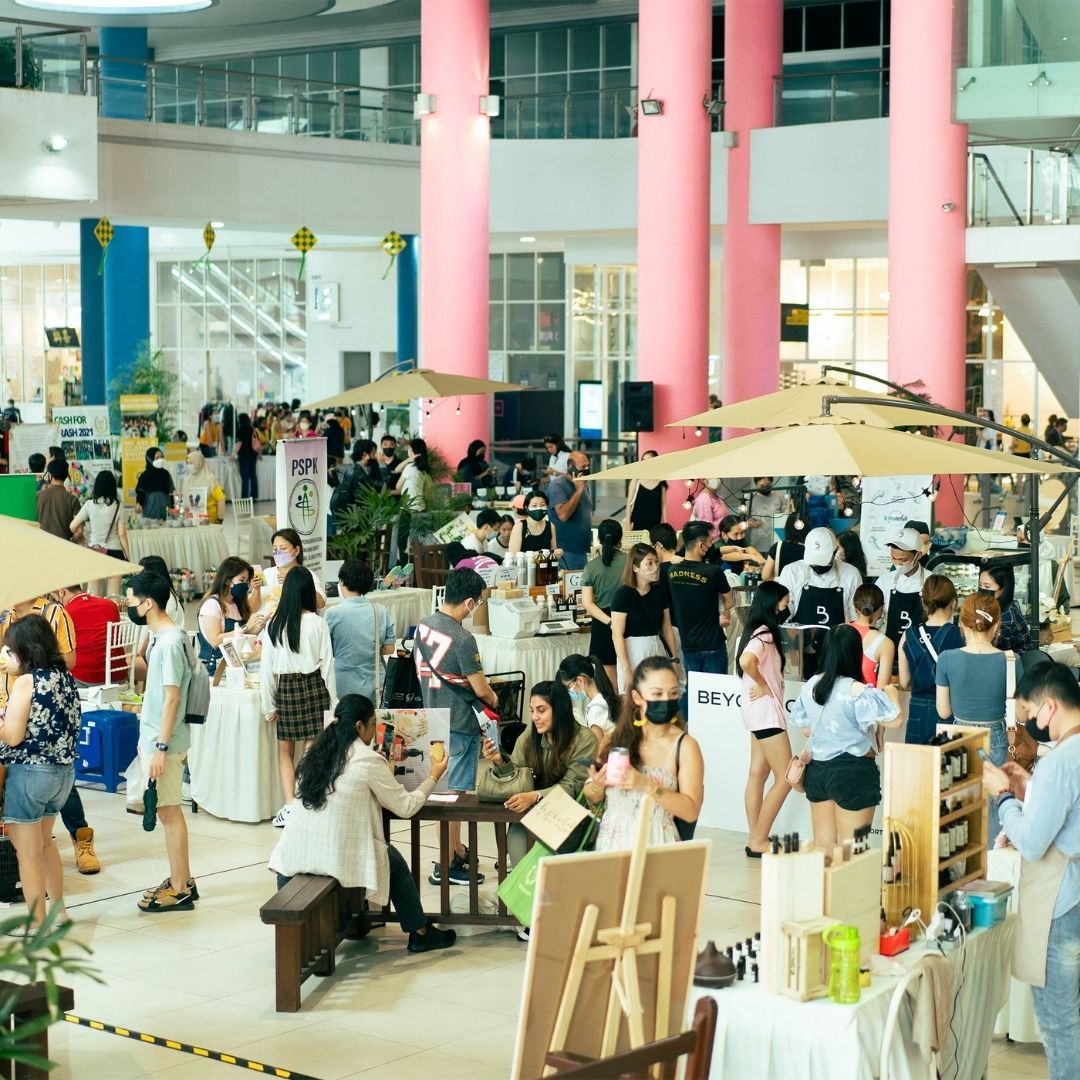 Petaling Jaya: Do you know that each Malaysian throws away 300 plastic bags a year on average and in 2020, Malaysia used 148,000 tonnes of plastic packaging for food?
To educate and address this issue, The Olive Tree has successfully launched their first-ever #plasticfree event - #OneLessFestival at Sunway Nexis from 28 to 29 May with the aim to reduce one less plastic through our daily consumption.
The festival kicked off with an exclusive launch officiated by Her Royal Highness Tengku Zatashah with Hong Mei (Founder of The Olive Tree), Lee Yoon (Founder of Hara Makers ) and Mr Adly Sham (General Manager of Sunway Property) on 28 May with the highlight of "Last Tree In the City" art installation. Tengku Zatashah has addressed the significance of plastic waste and how a simple action could bring change collectively. #sayno2plastic
"it's so important to have an eco-festival where everybody could bring reusables, save on the plastic, and stop single-use plastic… A lot of people out there tend to blame others for plastic pollution and what I say is, we have to look within ourselves, educate ourselves, at every step, every change that we do, makes a huge difference (in saving the environment)" said Tengku Zatashah
This plastic tree art installation says it all. Collected from PJ communities, a total of 2,515 trash plastic food wrappers were made into this art installation, which is symbolic of how much our consumption and single use disposable mentality is harming our planet. It's alarming because most of the plastic food wrappers are from snack bags and 3-in-1 drink's sachet and they are usually non-recyclable or hard to recycle.
The upcycled plastic tree display will present a tree without green leaves, replaced by brightly coloured plastic bags. Visually, it is brilliant and dazzling, but the colourful plastic bags shows our daily consumption of plastic - #ItIsWhatWeConsume. It serves to remind people to be conscious of what we consume and how we shop because it's been incredibly wasteful with the fact that each Malaysian throws away 300 plastic bags a year on average (source: Trashpedia by Zero Waste Malaysia).
The founder - Hong Mei realized that business could have a greater impact compared to individuals. "We could cut down the usage and consumption right from the beginning of the supply chain." Over 40 local green-minded brands joined the festival, many of them going plastic free for the first time. With a wide choice of artisan and plant-based food galore, package-free, environmental zone, workshops, and plastic-free fun experience, the 100% free admission 2-day event has successfully drawn MORE THAN 2,000 visitors.
With sustainability in mind, many visitors bring their own lunch boxes, reusable cups and shopping bags to reduce the amount of waste generated from the festival. With this, it also gave all the involved local brands at #OneLessFestival some confidence to offer plastic free for all packaging including food & drinks in the long term.
Speaking of fun, a total of 8 interactive workshops such as Eco-Soap Making, Hot Composting, Coin Bag Making with Recycled Plastic for those who wish to find sustainable and environmentally friendly solutions and adopt a healthier lifestyle for themselves and their children. There were lots of opportunities to ask questions, share tips and a fun way to get to know others.
What pleases us most about the festival is the community from all ends get to showcase and experience the latest sustainable projects, workshops, ideas, and products that inspire people on their plastic-free journey. About 20% of the event booths are dedicated to NGOs & Social Enterprises to share their knowledge and solutions to reduce our impact on the environment.
Featuring Beyond Bins by Biji- Biji Initiative, the machine Beyond Bins showcases how much work is required with the manual recycling of plastic and upcycling into unique coasters. From shredding the plastic manually and moulding them, 1 coaster is produced in 30 minutes during the showcase. Beyond Bins is only capable of producing up to 30 coasters per day. Even if it's hard, closing the loop of plastic waste has been Biji-Biji's forte and 22,717 kg of plastic waste have been converted to products so far.
●
Zero Waste Malaysia
. a non-profit organization in Malaysia advocating for sustainable development & living. Launched Malaysia's first extensive online trash encyclopedia with 101 trash items – Trashpedia that educates Malaysians about waste segregation while offering zero waste alternatives in the local context.
●
Biji- Biji Initiative
, an impact-driven agency aimed to create sustainable living and innovations. Launched
Beyond Bins
Campaign that targets small-scale recycling solutions and promotes an alternative source of income for the underprivileged community through the production and re-selling of recycled products.
●
Kloth Cares
. Founded in 2013, it empowers Malaysians to act in keeping unwanted fabrics and plastic away from landfills for a sustainable future. Installed over 280 Kloth Cares bins in Malaysia with the aim to divert 2 million kg of unwanted fabrics since 2018.
●
Free Tree Society
. An environmental organization that spreads the environmental stewardship message through giving away over 40,042 trees to homeowners, schools, marginalized groups, community gardens and wildlife habitats for free to green our Earth since 2013.
●
ERTH
, Electronic Recycling Through Heroes, pays you to recycle your personal electronics such as PCs, laptops, smartphones, etc. for recycling. Sometimes, ERTH upcycles the parts that cannot be recycled.
●
Reimagine Plastic
. A local initiative by Hara Makers to bring the community to rethink and Re-Imagine ways to recycle and dispose of various kinds of plastics. Launched the BreadTag Upcycling Program in 2021 to collect breadtag waste and turn the tiny plastic into household utensils and marketable products.
●
Impactlution
. A social enterprise specializes in environmental and community capacity development that closes the waste loop by upcycling waste into the economy while elevating the socioeconomic status of vulnerable communities.
●
Fashion Revolution Malaysia x The Swap Project
- Fashion Revolution is a global movement advocating ethical and fair fashion. By working with The Swap Project – the clothes swapping platform, together they promote textile sustainability and circular fashion through clothes swap to the Malaysian community.
In support of these initiatives, #OneLessFestival sees waste as value, thus we opened up the space as a pick-up and recycling centre of various types of plastic waste, unwanted clothes & textile wears, E-waste, used cooking oils where all these wastes will be upcycled into useful products and close the loop of waste. Through this event,
we have successfully collected 169 kg of plastic waste, 600kg of e-waste and 29 kg of used cooking oils
. Redemption of free trees by Free Tree Society was available too on Sunday (29 May) for the local community to build their cleaner and greener home.
Many businesses have offered discounts for their products including The Olive Tree with 50% off on second items when consumers choose to use their own reusables. "We don't need to make any unnecessary bottle waste with sustainable packaging because the best way is to reuse your plastic bottle! Your #zeroplastic and #plasticfree moment could start here with us if you want to make a green switch." We have also rewarded RM 1 off for the return of any clean and dry The Olive Tree's bottle for their purchase as we would like to be responsible for the plastic waste that we created.
The event has successfully saved MORE THAN 3,600 plastic with over 40 local brands, NGOs and social enterprises working together with us. As a result, we have achieved our aim to help the communities to understand how to sort and dispose of them properly, and to use alternatives whenever possible to begin a less wasteful life.
---