THE OLIVE TREE ONELESS FESTIVAL - SHOP BYO & PLASTIC FREE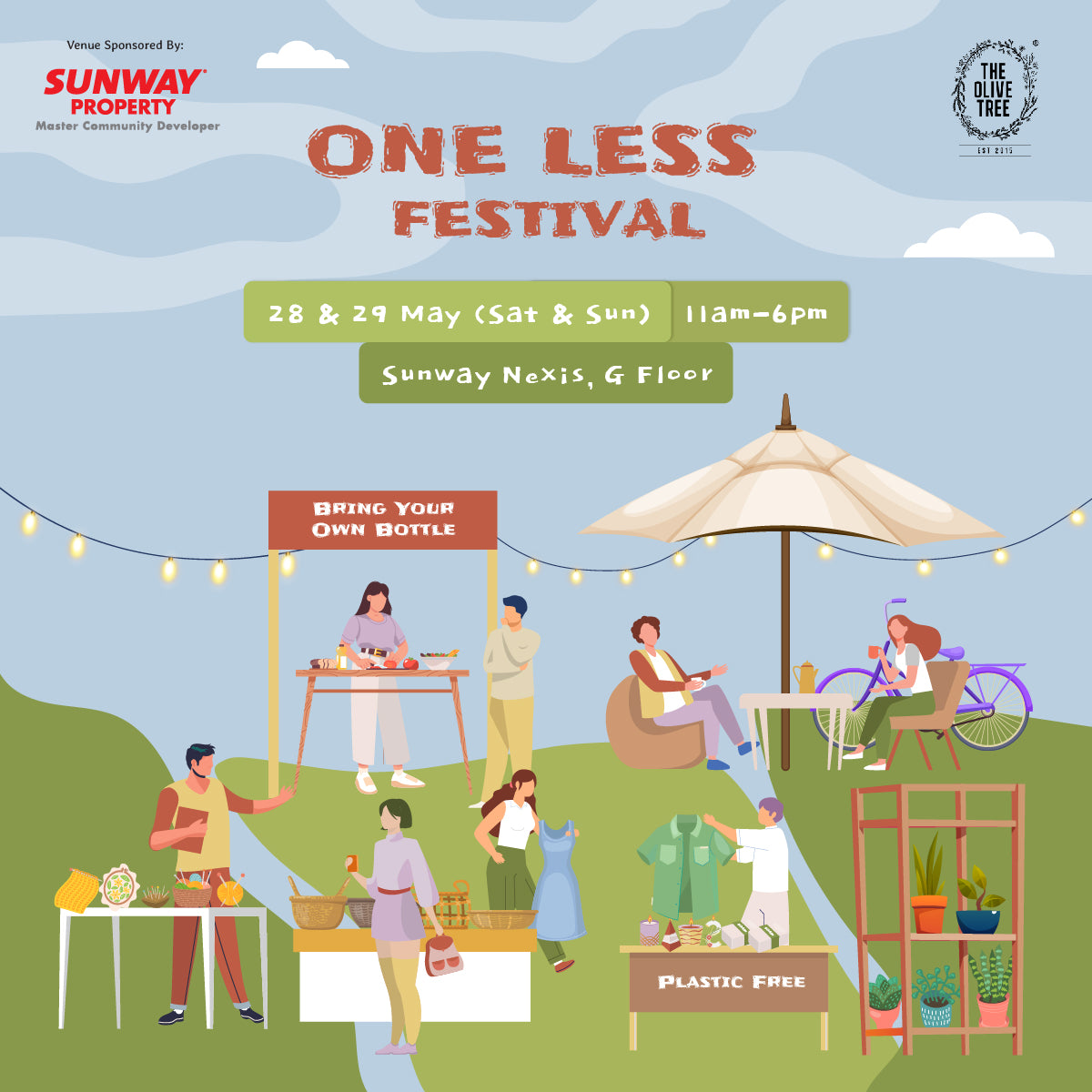 Petaling Jaya: The Olive Tree will be organizing their first ever sustainable event called ONELESS Festival.
ONELESS Festival is a plastic free event offering shopping, food & beverages, workshops in a sustainable manner. The event will be on 28 & 29 May 2022 at Sunway Nexis from 11am- 6pm.
"Prior to MCO, Sustainable initiatives such as Zero Waste and Plastic Free gained tremendous attention and movement among us. We were trying our best to bring our containers for refills and food take-away. The pandemic has pulled us back a few steps given the restricted movement control." said Law Hong Mei, the founder & CEO of The Olive Tree.
"I was exposed to how plastic impacts our lives back in 2017, where I saw a visual illustration of a roll of sushi made of plastic. We are not just impacting our ocean, but we are consuming the consequences of what we have done to our home (the environment) - we are actually eating the plastic. This served as an alarm for me personally, hence triggering me to start cutting down on the plastic waste at the personal level." said Law Hong Mei.
"I realized that business could have a greater impact compared to individuals. We could cut down the usage and consumption right from the beginning of the supply chain. That's why we started to ship plastic free, offering bulk refills and introducing the ONELESS program rebating customers of RM 1 for every used, clean & dry bottle returned to us as early as 2017. We want to be responsible for the plastic waste that we created. We are the first brand offering personal care products in huge 20kg containers for refills. It was quite tough at the beginning as most of our customers would rather buy new bottles instead of bringing their own containers. We have even gone to the stage of cleaning and sterilizing the returned bottles for our customers who wanted to try refills but forgot to bring their bottles for at least 3 years. But now, most of our customers came back with their clean & dry bottles for the refills!: said Law Hong Mei
"We always wanted to organize a pop up event to bring all like minded brands and small businesses, #sapotlokal together to create an impactful message. The impact would be definitely so much greater versus our single voice.
We have invited many brands who are new to offering plastic free onboard with us. Many of them will be going plastic free for the first time. We hope this event will give them the confidence to offer plastic free in the long term. With this in mind, we have decided to organize our first ever event called OneLessFestival. Offering plastic free shopping experiences could be creative. While shopping plastic free could be cool and fun too!" said Law Hong Mei.
The #OneLessFestival is 100% free admission all weekend and you can get local and sustainable food, handmade, personal care, and household products from over 40 brands. You can expect artisan and plant-based food galore, package-free, environmental zone, workshops, and plastic-free fun experience.
The venue is supported by Sunway Property in conjunction with the upcoming World Environment Day. As the Master Community Developer, Sunway Property has been an avid supporter of the green initiative held annually and continues to encourage environmental awareness to help race for a better planet.
With sustainability in mind, visitors are encouraged to bring their own lunch boxes, reusable cups and shopping bags to reduce the amount of waste generated from the festival. It also seeks to empower the business to do their part for sustainability by going plastic-free for all packaging including food and drinks.
We are very honoured to have Her Royal Highness Tengku Datin Paduka Setia Zatashah Sultan Sharafuddin Idris Shah of Selangor as our guest of honour to officiate the event. Her Royal Highness is undeniably passionate towards her green effort and equally vocal about advocating sustainability. While there are many environmental issues that we currently face, Tengku Zatashah has set her focus on reducing single-use plastic and waste (food).
#Sayno2plastic
The highlight of the event will be the unveiling of a meaningful art installation from Reimagine Plastic by Hara Makers named "Last Tree In The City" using 5,000 plastic bags collected from the community. The upcycled plastic tree display will present a tree without green leaves, replaced by brightly coloured plastic bags. Visually, it is brilliant and dazzling, but the colourful plastic bags represent serious pollution. It serves to remind people to be conscious when they shop and bring a reusable bag for shopping, because it's been incredibly wasteful with the fact that each Malaysian throws away 300 plastic bags a year on average (source: Trashpedia by Zero Waste Malaysia).
Agenda
10am - Opening Ceremony
by Her Royal Highness Tengku Datin Paduka Setia Zatashah Sultan Sharafuddin Idris Shah & Founder & CEO of The Olive Tree (Law Hong Mei) , Co-Founder of Hara Makers (Hung Bee Ling), Senior Executive Director of Sunway Property, Mr Chong Sau Min
10.10am - Experiential Session of Cookie Up Coffee, Hand-Drawn Glass Bottle & Free Refill
10.20am - Interactive Showcase by Biji-Biji Initiative
10.40am - Experiential Session of Cookie Up Coffee, Hand-Drawn Glass Bottle & Free Refill (cont.)
11.00 am - Ends
What pleases us most about the festival is the community from all ends get to showcase and experience the latest sustainable projects, workshops, ideas and products that inspire people on their plastic-free journey. About 20% of the event booths are dedicated to NGOs & Social Enterprises to share their knowledge and solutions to reduce our impact on the environment.
● Zero Waste Malaysia. a non-profit organization in Malaysia advocating for sustainable development & living. Launched Malaysia's first extensive online trash encyclopedia with 101 trash items – Trashpedia that educates Malaysians about waste segregation while offering zero waste alternatives in the local context.
● Biji- Biji Initiative, an impact-driven agency aimed to create sustainable living and innovations. Launched Beyond Bins Campaign that targets small scale recycling solutions and promotes an alternative source of income for the underprivileged community through the production and re-selling of recycled products.
● Kloth Cares. Founded in 2013, it empowers Malaysians to act in keeping unwanted fabrics and plastic away from landfills for a sustainable future. Installed over 280 Kloth Cares bins in Malaysia with the aim to divert 2 million kg of unwanted fabrics since 2018.
● Free Tree Society. An environmental organization that spreads the environmental stewardship message through giving away over 40,042 trees to homeowners, schools, marginalized groups, community gardens and wildlife habitats for free to green our Earth since 2013.
● Reimagine Plastic. A local initiative by Hara Makers to bring the community to rethink and Re-Imagine ways to recycle and dispose of various kinds of plastics. Launched the BreadTag Upcycling Program in 2021 to collect breadtag waste and turned the tiny plastic into household utensils and marketable products.
● Impactlution. A social enterprise specializes in environmental and community capacity development that closes the waste loop by upcycling waste into the economy while elevating the socioeconomic with vulnerable communities.
In support of these initiatives, #OneLessFestival opens the space for collection of various types of plastic waste, unwanted clothes, E-waste, used cooking oils and redemption of free trees for the local community to build their cleaner and greener home. The Olive Tree will offer 2nd items at 50% during these 2 days. Consumers may BYO their 500ml containers to refill their daily essentials. We will also reward RM 1 off for the return of any clean and dry The Olive Tree's
ABOUT THE OLIVE TREE
The Olive Tree was established in 2015 to provide carefully crafted natural products, which harnesses the goodness of Mother Nature. It all began when the founder's children were suffering from eczema. Despite her best efforts to keep their surroundings clean and dust mite free, the problems persisted. When her sister, who resides in Melbourne, gave her a plant-based soap to try, she noticed vast improvements with her children's and her own skin condition. Realizing the difficulty in finding great products made from natural ingredients, doubled with the increasing demand, the founder was inspired to formulate and create her own products using high quality plant-based ingredients and expertise from Australia. The Olive Tree superior products are a great alternative to commercially produced products laden with potentially harmful chemicals. With this, the brand set out with a mission to offer sustainable, clean and worry-free beauty to every family. All products are made in Australia, committed to be vegan, free from sulphates, silicones, parabens, synthetic colours , and fragrance.
---