ONE LESS FESTIVAL 12 DAYS OF GREEN HOLIDAY MARKET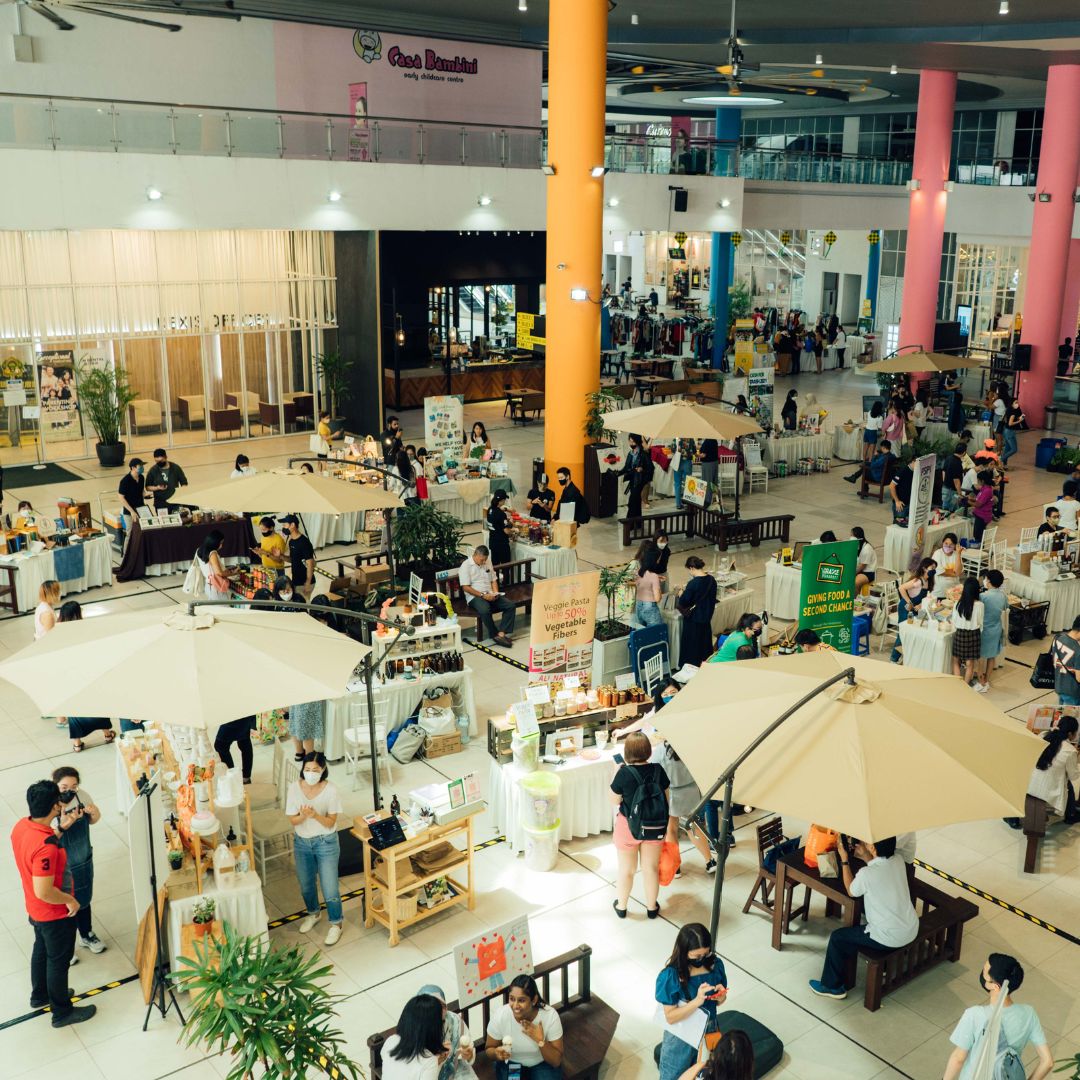 THE OLIVE TREE BRINGS MINDFUL SHOPPING AND EXPERIENTIAL GIFTING WITH ONE LESS FESTIVAL 12 DAYS OF GREEN HOLIDAYMARKET
As an avid supporter of the green initiative, The Olive Tree and Sunway Property jointly organized a pop-up #plasticfree market at the One Less Festival in May 2022, with a shared vision to promote plastic free shopping culture. Patrons were encouraged to bring their own lunch boxes, reusable cups, and shopping bags to reduce the amount of waste generated from the festival. The two-day event attracted over 2,000 customers with more than 40 local and NGOs to support.
Taking a big step forward, The Olive Tree and Sunway Property invites you to One Less Festival holiday edition market – 12 Days of Green Holiday. Taking place at Sunway Nexis, G Floor, every Friday to Sunday from 25 Nov till 18 Dec 2022.
You can rethink the way you shop your gifts this holiday season by showing support for companies that operate with a social and environmental purpose by selling local, all-natural, eco-conscious, package-free, and ethical goods. They're here to help you reimagine the types of gifts you may give to every loved one. The best of all, with lots of exciting weekly activities, you can connect with people, enable positive change, and help to bring about sustainable shopping.
"We're always surprised at how much plastic invades our home during the holiday season. With all the party crashers: single-use waste like wrapping paper, cards, ribbons, and bows, by the time all the gifts have been unwrapped, there's excessive packaging waste that's not even the presents! How long before the waste wind up in the landfill as well? This is the reason why we organize this market to help people to for this holiday, with tangible or intangible gift-giving." enthused Hong Mei, Founder of The Olive Tree.
The #OneLessFestival is 100% free admission all weekends and you can get local and sustainable food, handmade, personal care, and holiday gifts from over 120 brands. You can expect artisan and plant-based food galore, personalized handmade gifts, experiential gifts, workshops, and many sustainable fun experiences. With sustainability in mind, we are still aligned with the sustainability goal of our first #OneLessFestival, many brands who are new to offering plastic free will be onboard with us and those who have joined previously will be making their appearance again this November. It was a challenging process as The Olive Tree must forgo many brands that not able to comply to plastic – free policy in the process and work with valuable brands who see sustainable business worthwhile.
"We love holidays – everybody does, but we also care about the planet. The best gifts these days have gone beyond wrapped boxes with bows; they are experiences for us. One of the eco-friendlier gift-giving ideas is to give experiences rather than material things. Experiential gifts tend to be thoughtful and personalized, giving your loved ones something that they will truly value and enjoy. Plus, it can help you spend quality time together.
You can book an activity that can be shared with your loved one, or with their family for all ages such as inline skate, silent disco, glamping rental, vegan high tea, handmade workshops, and many more on every weekends. In a way, families and friends can absolutely chill with different full day thematic activities and live music performances from 12 – 3pm every Saturday and Sunday."
One Less Festival Weekly Theme
Week 1: Black Friday Skate (25– 27 Nov, 10am – 6pm)
Shop Black Friday right and skate right! While going high to shop sustainable gifts in conjunction with Black Friday, this week is all about promoting eco-friendly hobbies including green skating for all green communities in the Sunway Nexis spacious and comfortable common areas. A special collaboration with The Blade School, inline skating can be great fun for the entire family as workshop is available for all ages. Learn and improve, whether you're a complete beginner or seasoned skaters. Get rolling for yourself!
Week 2: Handmade Party (2 Dec – 3 Dec, 12pm –10pm; 4 Dec, 11am – 6pm) 
Discover a fabulous collection of plastic-free gifts and crafts for anyone or the next generation. Find reusable, upcycled, recycled arts or purely buying local arts to support. If you keep loving all those nice Pinterest posts but no time to make it, this is the place for all the handmade party.  A total of 6 personalized workshops are lined up.
On this week, if you're ready to let loose at a kid-friendly party, people of all ages, kids, teens and adults can come together to enjoy a unique experience like a Silent Disco that will have you dancing, laughing, and having fun with your friends and family - a memory you won't forget lifetime by Silent Olympus on 2 & 3 Dec, 6.45pm – 9pm! Dance to the music with wireless headphones - all while a live DJ plays the hottest songs and different styles of music. 
Week 3: Green Gifting (9 – 11 Dec, 10am – 6pm)
Personalized, local, eco-friendly, and shop it the green way. While material gifts are great to receive, open your holiday gift options to intangible and experiential gift that improve quality of life of loved ones, for example, glamping cafe experience, spa day, surprise trip, amusement park ticket, hobby class, health check or dine-in gift. For the person who has everything, an "experiential" gift is the way to go. Powered by The Hiltent, they offer an affordable way to go, made more enjoyable by lightweight, modern gear for occasional or even first-time campers who longing for comfortable & glamourous camping experience. Seek out to best instagrammable ideas here!
Week 4: Veg High Tea (16 – 18 Dec, 10am – 6pm)
Rejoice veg lovers! Powered by The Olive Tree and VegHub, the Veg High Tea week is all about making vegan accessible to everyone, and a thoughtful way to support the vegan loved ones in their ethical choices. This market brings convenience so that you don't have to spend endless hours searching the internet for the best veg-centric gifts. Find not only food, but groceries, clothes, cosmetics… Everything. It's time to bring more choice to both the vegan and vegetarian community. Circular packaging for dining experience would be another remarkable highlight across the 4 weeks, Opack will bring an entirely different "fill–it–forward" dining moment with a reusable to–go practice to everyone who visited the One Less Festival.
By allowing the customers to rent and return their food containers from Opack, they can enjoy their zero waste "tapau" journey for all the takeout food options offered at the holiday market. They can rent each reusable container at only RM1.50 with a deposit of RM10, then return the reusables to Opack on the spot for them to professionally clean and reuse the items. An experiential holiday may seem to break the new ground given the usual practice we had in all gifting occasion, but we can always think outside the (big) box, support ethical and sustainable local businesses, and get a little creative for this holiday market.
Want to experience an eco-friendly, affordable holiday gifting with lasting satisfaction? Keep your eyes and ears peeled for news of this festival on The Olive Tree's social media @onelessfestival.
One Less Festival Exclusive Promotion
BLACK FRIDAY SKATE WEEK 1 EXCLUSIVE
In conjunction with Black Friday from 25 Nov – 27 Nov, The Olive Tree will be offering selected holiday gift sets (worth up to RM139.80) with PWP at only RM9.90 for every purchase above RM RM250. Available while stocks last.
GIFT WITH PURCHASE
Between 25 Nov – 18 Dec 2022, every Friday to Sunday, The Olive Tree is giving away 1 x My Secret Garden Wanderlust Travel Set exclusively this holiday 2022 (comprises of 2 x bottles of Limited Edition Wonderbrew Kombucha and The Olive Tree 3-in-1 Holiday Travel Kit) for every purchase above RM350. Available while stocks last.
All details about One Less Festival holiday edition market can be found on https://theolivetree-organic.com/pages/one-less-festival-12-days-of-green-holiday.
For more information or to interact with The Olive Tree team, please visit their webpage, Facebook https://www.facebook.com/theolivetreeorganic or Instagram @theolivetreecompany & @onelessfestival.
#OneLessFestival
#12DaysOfGreenHoliday
#TheOliveTreeCompany
#AGiftToKeep
ABOUT THE OLIVE TREE
The Olive Tree was established in 2015 to provide carefully crafted natural products, which harnesses the goodness of Mother Nature. It all began when the founder's children were suffering from eczema. Despite her best efforts to keep their surroundings clean and dust mite free, the problems persisted.
When her sister, who resides in Melbourne, gave her a plant-based soap to try, she noticed vast improvements with her children's and her own skin condition. Realizing the difficulty in finding great products made from natural ingredients, doubled with the increasing demand, the founder was inspired to formulate and create her own products using high quality plant-based ingredients and expertise from Australia. The Olive Tree superior products are a great alternative to commercially produced products laden with potentially harmful chemicals.
With this, the brand set out with a mission to offer sustainable, clean and worry-free beauty to every family. All products are made in Australia, committed to be vegan, free from sulphates, silicones, parabens, synthetic colours , and fragrance.
---