Hair Talk 101: When to Cut Sulphate, Silicone, Fragrance and Parabens from Your Hair Care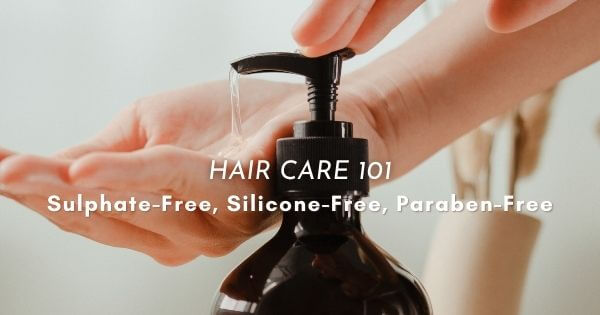 Shampoos are non-negotiable in our daily routine. It's no doubt when we look up for beneficial ingredients, we somehow overlook the negative effects regular shampoos can have on our hair.
If we want a beautiful hair, the right formulations will take us there. But we should be mindful to avoid shampoo chemicals such as parabens, fragrance, sulphates and silicone. So the real deal, why are they bad for you?  Is it time to go paraben, fragrance, silicone and sulphates-free? Here's everything you need to know about these harmful ingredients and decide if they'll help or hurt your hair.
⚠️ Sulphates
The cleansing agent; it leaves our hair feeling extremely dry because it strips away the natural oil in your hair when it washes hair a little too effectively. This chemical tends to irritate the scalp, causing dry, frizzy locks as a result.
⚠️ Parabens
Used as a preservative. It's mainly used to increase the shelf life of shampoo and prevent the growth of bacteria. But it can cause an allergic reaction and can even make sensitivity such as eczema worse, especially in young children.
⚠️ Silicone 
It resembles a waterproof coating around your hair cuticle and turns your unruly, frizzy hair into silky, soft, and shiny one. But over time, silicones accumulates on the hair, weighing it down and cause buildup. Hair becomes heavy and greasy as more and more silicone deposits on the hair.
⚠️ Fragrance
We're not going to lie, scent make the no.1 factor why the shampoo get its place in our shower. Artificial fragrance however can cause scalp irritation and redness in certain people. Avoiding dandruff and irritation by going fragrance-free isn't the only benefit, your colour-treated hair will fade less quickly. 
Tricks Of The Trade
Living in 2021, with the effort sustainability, transparency of ingredients and switching to natural products, most people are looking out for shampoos that are trustworthy when it comes to hair health.
While making a change in hair beauty products can be a little daunting especially if you turn to certain products out of habit and the first few week's results are unsettling, it's because your hair is adapting to a new product. BUT! Making a switch to sulphate, silicone, fragrance, and paraben-free shampoos could give you a brand new experience, and you get to save the environment too.
So if you're finding that your shampoo is irritating your scalp more than before, our sulphate, silicone, fragrance and paraben-free shampoo might be the way to go. Here are the shampoos we highly recommend:
Explore the four different shampoo scents below. 
Rosemary and mint shampoo is perfect for normal to fine hair. It adds volume to fine hair, gives hair a nice glossy look besides promoting hair growth. Suitable for non-oily scalp, itchy and flaky scalp.
A 2 in-1 hair formula that cleanses and hydrates. Our Purifying Tea Tree Charcoal Shampoo is formulated to deep cleanse the scalp, soothe itchy and irritated scalp to prevent scalp flaking or dandruff.
Lavender chamomile shampoo is great for sensitive skin or scalp. It is so mild and gentle, making it suitable for young children and the most sensitive skin types.
The Balancing Shampoo gently cleanses the scalp, removes excess oil without drying the hair and keeps hair odour free. It is specially formulated with premium botanical ingredients such as geranium essential oil, petitgrain essential and broccoli seed oil to cater to individuals with oily scalp and dry, frizzy hair.
---