Gifting meaningfully this holiday season...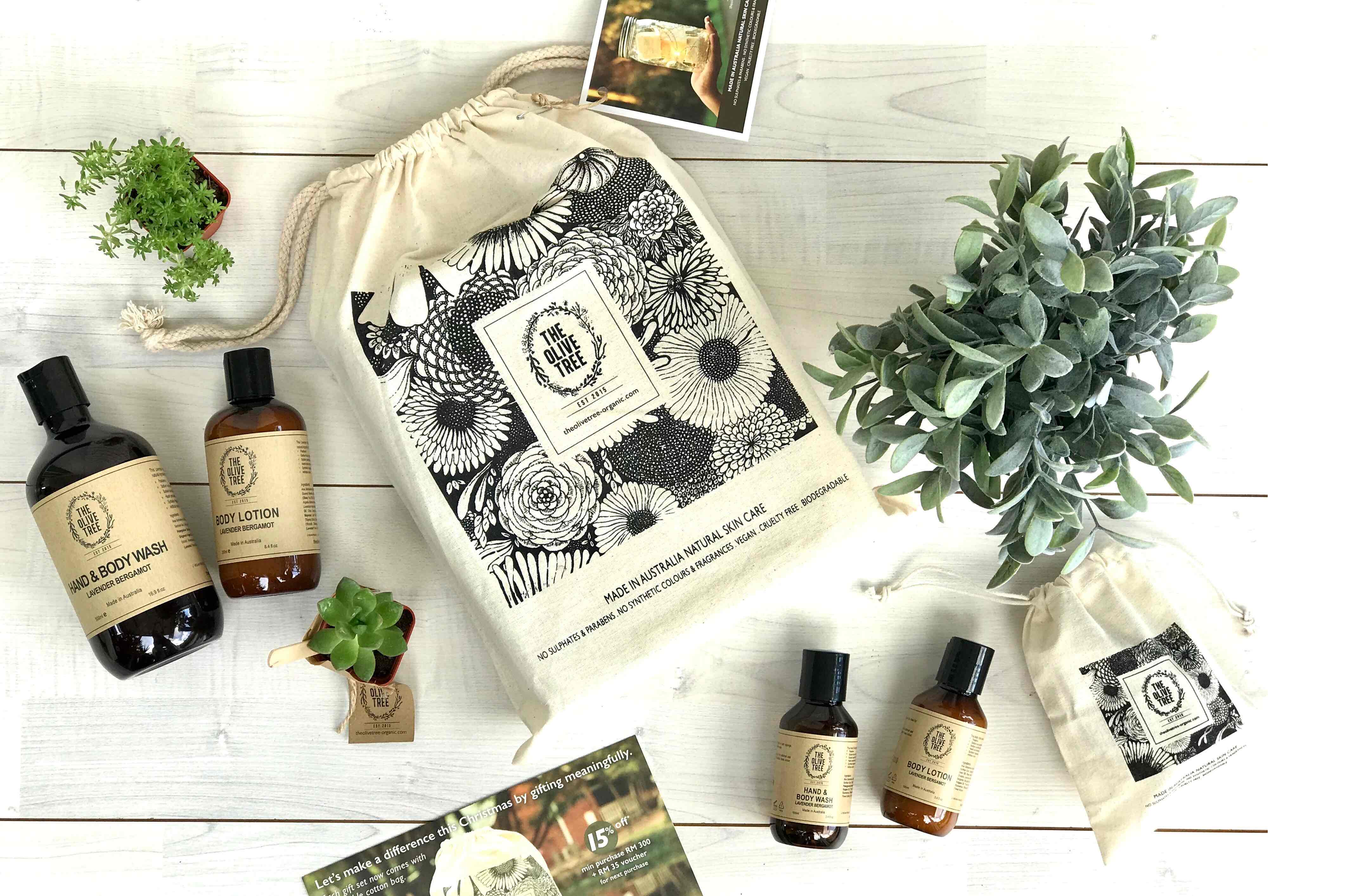 In line with our efforts to reduce waste, this season's gift wrapping comes in a reusable The Olive Cotton Bag ("Cotton Bag"). This Cotton Bag is lightweight, versatile and makes a handy travel companion.
Read on to find out more about this season's key theme.
1. What is The Olive Tree's key theme for Christmas 2017?
We realized that for the past two Christmases, our gift packaging which was usually used only once mostly ended up in the bin after the gift was unwrapped. As such, we tasked ourselves to develop a more meaningful gift packaging for Christmas 2017 which reduces waste, recyclable and reusable. We wanted to make a difference this Christmas by gifting without the unnecessary packaging.
2. What is the inspiration behind this year's Christmas packaging?
Hong Mei got the inspiration from an Indonesian hotel's laundry bag which she got five years ago. Till this day, she still brings along the said laundry bag with her whenever she travels.
The Olive Tree's Cotton Bag is lightweight, versatile and portable. You may use it as a toiletry bag, laundry bag, gym bag, shoe bag or grocery bag. There are just so many ways to use the cotton pouch due to its versatility.
During this Christmas period, each Christmas set now comes with the Cotton Bag. 
Apart from this, we will also organize a special event at both our stores at Pavilion (8 Dec from 12 pm - 4 pm) and 1 Utama (15 Dec from 12 pm - 4 pm) that offers personalization services. Spend RM 300 & above, customers get to personalize their name on The Olive Tree Cotton Bag.
We would like to encourage our customers to shop with us by reusing this Cotton Bag. Each time they bring along this Cotton Bag to make a purchase at our store, they will be rewarded with a RM 1 cash rebate to offset against their purchase as a token of our appreciation to them for using less single use paper bag.
3. What does reducing waste mean to The Olive Tree?
It was reported in The Star recently that The Malaysian Plastics Manufacturers Association estimates that the average citizen uses 300 plastic bags a year. Based on a population of 30 million, this adds up to nine billion bags used and thrown away, annually.
These plastic bags take hundreds of years to decompose and normally end up in our oceans, drains, streets and landfills. They leach chemicals and toxins into surrounding ecosystems, contaminating water supplies from ocean water, marine life and plant
We strongly believe that it is not that we do not care about the impact of our plastic bags usage, we are just unaware about the adverse impact.
Each of us can make a huge impact in our homes by making small changes in our routines like saying NO to the following:
No plastic bags – Bring your own cotton bag, recyclable bag or container.
No straws.
No coffee take-away cups – Bring your own mug.
No mineral water bottles – Bring your own bottles.
No wastage of food.
4. The Olive Tree is using PET bottle for all liquid products, how would you address this in terms of using less plastic?
Our ultimate goal is to provide refill services at our stores where customers can bring their own bottles to refill any liquid products. We will be starting this service at a Zero Waste community center called The Hive Bulk Foods at Bangsar where the Zero Waste community can purchase their food and essential items by bringing their own bottles or packaging. So stay tuned. 
"We do not inherit the earth from our fathers, we borrow it from our children." – Native American Proverb.
Let's Reduce, Reuse & Recycle together.
---