6 Ways to Achieve Oil-Free Hair & How to Fix It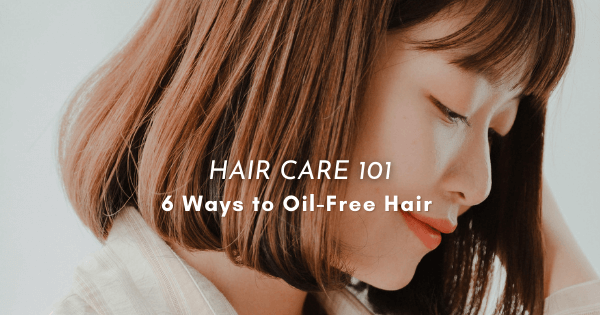 6 Ways to Achieve Oil-Free Hair & How to Fix It 
Having greasy hair is a recurring problem. Oily hair is like oily skin. Sometimes that's just how it is. And other times it could be because of the habits we keep. 
Washing too often or with hot water ? 

Apply conditioner all over the hair including scalp ? 

Brushing hair too much ? 

Going to sleep with wet hair ? 

Using product which is not right but smells good ?  

Frustrating as this might be, it's a relief that we can actually train our hair to be less greasy. Here are our recommended 6 tips every oily-haired person should live by:
Sulphate formulated shampoo tends to wash the hair a little too effective. Choose sulphate-free shampoo as sulphate-free formula cleanse your hair without stripping too much of your natural hair oil when you wash daily.  
Brush your hair adequately. Not brushing enough keeps natural oils build up on the scalp. Over-brushing, on the other hand, can stimulate oil production. With the right hair brush, you can actually remove and distribute some of that oil evenly so that your roots appear less greasy.
Choosing the right shampoo. Use purifying shampoo such as Tea Tree Charcoal Shampoo that washes away impurities, cleanses oily scalp and stops dandruff. Consider going silicone-free, since silicones can potentially trap other ingredients on the hair - including oils. This shampoo provides purifying effect to your hair right down to the roots without any build-up.
Oily hair usually means a greasy scalp with drier ends. Choose a weightless and silicone-free Refreshing Conditioner so your hair isn't weighed down by the build-up. Instead of applying conditioner all over your hair, use it just at the ends, avoid the scalp entirely, which will make your hair looking flat and greasy. Whatever you do, don't forget to rinse your hair thoroughly.
Air dry will cause the moisture loss in hair and dampen hair will encourage the bacteria growth as soon as your hair sweat or gets oily. Blow drying your hair while brushing it can get rid of greasy roots but avoid using a hair dryer on high heat as heat encourages an increase of oil production.
It's easy to assume that frequent hair washing is the best way to zap oil. Truth is over-washing will backfire. If the oils are stripped too often, this triggers your scalp to produce more oil which results in greasier hair faster. Choosing a right shampoo will balance the moisture after your hair wash.
Healthy Hair Management Easy as 1,2,3 
Ready to ditch your greasy roots once and for all? Follow these 6 tips and your hair issues may as well be considered a thing of the past with #StrongerHairIn21Days.  
In hot and humid countries like Malaysia, Singapore, Brunei, Indonesia, Philippines, Thailand, it's a bad idea to think of not washing your hair. 
Regardless of your hair type, choosing the right shampoo and treating your hair the right way with our 6 tips are the primary  goals to healthier, stronger hair.  With an extensive variety of shampoos in the market, we picked the best 4 for you. 
Rosemary and mint shampoo is perfect for normal to fine hair. It adds volume to fine hair, gives hair a nice glossy look besides promoting hair growth. Suitable for non-oily scalp, itchy and flaky scalp.
A 2 in-1 hair formula that cleanses and hydrates. Our Purifying Tea Tree Charcoal Shampoo is formulated to deep cleanse the scalp, soothe itchy and irritated scalp to prevent scalp flaking or dandruff.
Lavender chamomile shampoo is great for sensitive skin or scalp. It is so mild and gentle, making it suitable for young children and the most sensitive skin types.
The Balancing Shampoo gently cleanses the scalp, removes excess oil without drying the hair and keeps hair odour free. It is specially formulated with premium botanical ingredients such as geranium essential oil, petitgrain essential and broccoli seed oil to cater to individuals with oily scalp and dry, frizzy hair.
---